Company History
In its first 15 days, Fil-Estate Realty Corporation earned 15 million pesos. It was an accmplishment that would characterized the marketing company's aggressive stand within the real estate industry in the Philippines. The founding triumvirate of Atty. Ferdinand Santos, Robert John Sobrepena, and Noel Carino, initially formed the company in 1981 to market the projects of the country's biggest real estate firms.
By example, the three leaders provided impetus to the individuals comprising Fil-Estate's growing sales force. Motivated to accomplish goasl and surpass expectations each was rewarded with material and career benefits that would invariably improve their quality of life.
Two synergistic forces kept the team in focus; the real-estate companies who had full confidence in their ability to sell-out quality projects and the consumers who entrusted their investment to Fil-Estate. Its role as liason between these two groups developed for Fil-Estate a keen "feel" for the market.
Using these well-honed perception, Fil-Estate began to play a more active part in the developments of projects, first as investor, then as a joint venture partners, then as planners and developers. It was in the fusion of these that Fil-Estate flourished, carving for itself a reputation among consumers as a community-oriented real estate company that offers best value for money.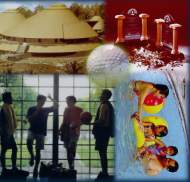 Fil-Estate was first in the industry to introduce clubhouse and swimming pool amenities as a constant in their residential projects. At Hillsborough, the concept is elevated to luxurious levels. The Hampton Court located centrally within the subdivision is a two-storey structure housing professional-grade facilities for basketball, tennis, billiards, pool and bowling. A multi-purpose hall is equipped to handle special events, and overlooks a lush garden whose main feature is a fun "aqua park".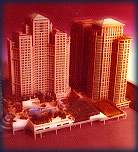 The word Condovision was created by Fil-Estate to describe its most ambitious project to date, a condominium complex as expansive and comprehensive as a subdivision. The Renaissance Towers community is ideally located at a walking distance from Asia's largest shopping mall and the fastest rising business district in Metro Manila. It encompasses an area of three hectares, upon which rises six high rise residential towers. The one hectare elevated podium called the "Bramante Piazza," encircled by all towers, offers residents a respite in greenery, water pools, sports facilities, a golf school, a ballroom with several multi-purpose rooms and convenience and coffee shops.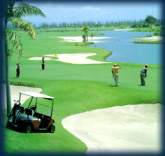 The year 1990 saw the decade-and-a-half hiatus in golf construction broken when Fil-Estate began development of the Manila Southwoods, the country's most prestigious golf center. At par in design and technical excellence with the world's best, its two 18-hole golf courses, the Masters and the Legends, were created using state-of-the-art technology and USGA-approved materials imported upon the specifications of Jack Nicklaus. The sprawling fairways are adjacent at particular points to residential properties, part of a premier community development that includes a 60-hectare theme, retail, entertainment and family enrichment center.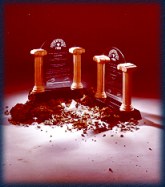 In 1992 Fil-Estate was awarded both the Developer of the Year Award and the Marketing Organization of the Year Awarded from the Chamber of Real Estate and the Builders Association, which releases the awards only when it has determined a recipient truly deserving. It was the first time both awards went to a single organization.
Fil-Estate is a composite of success stories. From the attraction of earnings a quick profit from sales, the outstanding performers move into a career path offering them progressive leadership postions and financial opportunities. The optimum examples of the Fil-Estate success story are those of the current Presidents of the Four marketing spin-off companies from the original Fil-Estate Realty Corporation. As in any sales-oriented company the atmosphere in these groups is highly competitive, yet a strong sense of respect and loyalty to the team effort is constantly cultivated.
Today, Fil-Estate Land, Inc. or FELI encomapsses seven companies with specific yet synergistic functions and disciplines. Its foundation in sales and marketing is further enhanced today in the four comapnies in which Fil-Estate Land maintains 20% ownership: Fil-Estate Realty Corporation, Inc. (FENI)., Fil-Estate Marketing Associates (FEMA), Fil-Estate Network, Inc. (FENI), Fil-Estate Sales, Inc. (FESI) and Fil-Estate Realty and Sales Associates, Inc. (FERSAI). Thecomplementing facets of FELI's business are handled by the two additional development companies which it fully owns: Fil-Estate Properties, Inc. or FEPI, and Fil-Estate Golf and Development, Inc. or (FEGDI).
Driven by a single version, the individuals compromising Fil-Estate Land, Inc. are committed to developing not just land or structure, but increasing opportunities for each and every Filipino to live the good life even better. It is an effort certain to bear fruit for the Company and its clientele... and into the future.

---