RESIDENTIAL CLUSTERS
Camp John Hay provides an oasis from the harshness of city life. The residential clusters provide a refreshing sanctuary to recharge the tired spirit. The Camp John Hay arrival experience is certainly an occasion every member of the family looks forward to. The cool mountain air, the scent of pine, the serenity of the mountain, and the fun-filled memories are worth the visit
RESIDENTIAL STRUCTURES - Cottages
These offer everything home should be ... picture glass windows, stone and wood, and all the features that make the fresh air and soothing scenery all the more enjoyable-high-ceilings, patios, and lots of garden space. Baguio lovers will find home sweet home at Camp John Hay, in Cottages one will keep coming back to.




RESIDENTIAL STRUCTURES - Country Homes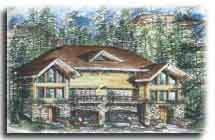 These are homes that fit snugly in to the arms of Mother Nature, nurturing the limitless, precious details that one never tires of dicovering. The well-designed mountain getaway reflects the same grandeur and cool airiness of the Baguio countryside. A place to read, sleep, eat, lounge... there is always a choice spot within these beautiful homes.



RESIDENTIAL STRUCTURES - Condo-Hotel
The country's only mountain getaway is also a haven to those who are staying for only a few days. The Condo-Hotel will transform those days into one of the most memorable, with low rise clusters surrounded by trees. The rooms will open to patios that bask in the fresh air and sunlight.
GOLF COURSE & CLUBHOUSE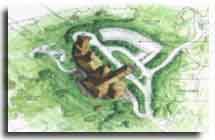 Golf remains a challenge at Camp John Hay, with the world renowned Nicklaus Design Group preserving and subtly enhancing the richly textured terrain to leave the golf enthusiast breathless with anticipation. The greens will be maintained in excellent condition, to offer only the best canvas upon which a golfer can paint a masterpiece game. With pine needles as a natural umbrella and a carpet of green to custom the most determined strides, Camp John Hay offers golf at its most exhilarating.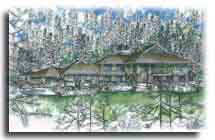 You are transported into a different world at Camp John Hay, where luxury and comfort make you feel at home in your own mountain getaway. The elegant Golf Clubhouse exudes nostalgia in its 19th century American architecture of stone and wood endhanced by reliefs inspired by colonial sawn ornaments. High ceilings are a constant, a necessity if one is to bask in the feeling of openness and the freedom to enjoy nature's gifts. Idyllic romance. Simple sophistication. Breezy verandas and terraces overlook the emerald fairways. Golf tips are exchanged at the lounge, lit warmly by the glowing fireplaces. Functions rooms and business centers, allow one to do business with much pleasure.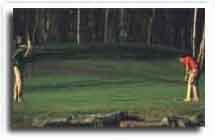 At the core of Camp John Hay development is maintenance and management of forested areas and of the facilities that support accomodations, sports, and recreation. Camp John Hay -- with its canopy of pine needles, its historical significance, and its charming cottages with windows and patios open to the crisp, fresh air -- changes, yet remains, in essence, and in our hearts, the same haven from where Baguio is best experienced This is the Baguio of my memories, Baguio, ever-resistant of change, has retained its charm and its power to refresh. Now that I can share it with my kids, it has become the Baguio of my dreams. ... Camp John Hay

---



[ Fil-Estate Realty Corp. ] [ Home ] [ Manila Southwoods Ecocentrum ] [ Contact Us ]