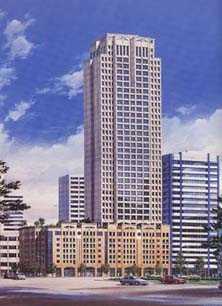 STATELY TOWER OF DISTINCTION
Close your eyes. Imagine the kind of posh residential condominium you would envision if you lived within the Ayala Triangle.
Now open your eyes. Right in front of you is the Paseo Parkview Tower.
Thirty-eight stories of lavish residential suites rendered in reflective glass, granite and concrete. Resting on a seven-story podium whose focal point is a magnificent lobby.
Paseo Parkview Tower . A stunning image whose contemporary appeal will endure well beyond the turn of the century.


DEVELOPMENT FEATURES AND HIGHLIGHTS
Typical Three-Bedroom Residence
* Master's bedroom with walk-in closet and toilet with bath tub
* Two bedrooms with toilet/bath
* Living area, master's bedroom and a bedroom with balconies
* Kitchen with ventilation
* Maids room with toilet/bath
* Utility room for laundry washing and drying
Typical Two-Bedroom Residence
* Master's bedroom with closet and toilet with bath tub
* Bedrooms with common bath/toilet
* Living area and master's bedroom with balconies
* Kitchen with ventilation
* Maids room with toilet/bath
* Utility room for laundry washing and drying
Typical One-Bedroom Residence
* Master's Bedroom with balcony, closet, and toilet/bath
* Kitchen with ventilation
Typical Studio Unit
* All studio units with balconies
* Toilet/Bath
* Kitchen with ventilation
Typical Residence Features
* Built-in closet for all bedrooms
* Imported kitchen cabinet system
* Stainless-steel kitchen sink
* Marbled toilet lavatory countertop
* Euro ceramic tiles for toilet/bath and walls
* Wood parquet flooring for living and dining rooms
* Travertine ceramic tile flooring for living and dining rooms
* Exhaust duct system for toilet/bath and kitchen of selected units
* Videophone entry system connected to reception/security counter
and building administration
* Entrance panel door with door viewer
* Garbage chute
* Individual electric and water meters
* Individual mailboxes with keys
* UHF/VHF master TV antenna with provision for Cable TV
* Provision for two telephone lines per unit
* Provision for hot and cold water supply lines
* Individual Condominium Certificate of Title (CCT)
Ground Floor
* Five-star-hotel-standard entrance lobby with reception/security counter
* Three-high speed, interior-finished passenger elevators with a dedicated service elevator
* Closed-Circuit TV (CCTV) monitoring system for selected common areas
* Security command center for 24-hour monitoring of all building facilities
* Service yard
* Centralized mail room
Recreational Amenities/Facilities
* Gymnasium/fitness center
* Function room
* Tropical pool and sun deck
* Children's playground/pool
* Landscaped gardens
* Water features
Building Facilities/Services
* Twenty-four hour security service with controlled entry points
* CCTV monitoring of selected common areas
* Automatic heat/smoke detection and fire sprinkler system for all units
* Annunciator panel with emergency speaker at parking floors
* Overhead tank and underground cistern for ample water supply
* Standby power generator
* Audio-video system connecting reception/security counter to all units
* Building administration/ security office
* Helipad
* Maintenance and housekeeping services
Multi-Level Carpark
* Two-level basement parking
* Multi-level podium parking
* Driver paging system
* Controlled access and 24-hour security