Unforgettable Shorelines. Unrivalled Pleasures.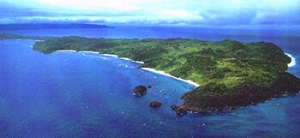 Boracay. One of the world's ultimate tropical seduction. Of crystal-clear waters lapping languorously at a seemingly endless stretch of shimmering shorelines. Of swaying palm trees bending playfully to the gentle winds. Of lush tropical rain forest that breeds a wild tumult of colorful flora and exotic fauna.
Looming luminously at the northwestern tip of Panay Island in the Central Philippines region, Boracay reckons gloriously as a tropical destination. Inspiring magical moments of adventure in one of the world's most exciting island escapes.
Discover your paradise adventure at Fairways & Bluewater, Newcoast, Boracay.

A world-class investment
with equally world-class features.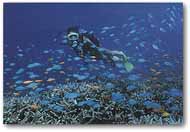 No other investment in the country today gives you as much advantage, as much power as the Fairways & Bluewater Proprietary Clubshare.
As an owner of the Fairways & Bluewater Proprietray Clubshare, you have the distinct privilege of acquiring a prime resort property.
You gain a real proprietary interest in first-class Luxury Resort Villas and an 18-hole par 72 world-class golf course which you can very well call your own.
Every year, you and your family have the privilege to stay in your own Luxury Resort Villa unit for a benefit week or a benefit fortnight (two weeks), for a pre-determined season without having to pay any accomodation fees.
On top of that, you as a Proprietary Clubshare Owner have the unique option to exchange your benefit weeks in any of Interval International's 1,400 member-resorts across the world.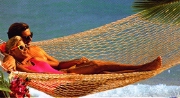 After all, no other resort in the Philippines can lay claim to being at par with such prestigious resorts and hotel chains as Marriot, Hyatt, Four Seasons and Disney Vacation Club --- all members of Interval International ---
and Fairways & Bluewater.
No other clubshare in the country gives you the same range of power and fascinating possibilities as your own Proprietary Clubshare does.

One of the World's Best Leisure Communities.
In One of the World's Best Beaches.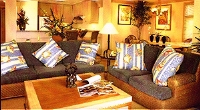 Dramatic architectural design and sumptuous tropical details highlight the resort's prime residential showcase -- the Luxury Resort Villas.
Design by Wimberly Allison Tong & Goo (WAT & G) of Newport beach California, the Luxury Resort Villas stand as one of the resort's architectural landmarks. WAT & G is one of the world's leading architectural design firms specializing in hotel and resort planning.
The Villas will be managed by the prestigious hotel chain ITT Sheraton, the same group which handles the management of some of the world's major hotels and resort enclaves.
On the other hand, the prestigious interior design firm, Philpotts & Associates, Inc. brings tropical opulence to each and every one of the Luxury Resort Villas. The furnishings are elaborate themselves: sturdy stone, elegant marble and fine Honduras mahogany.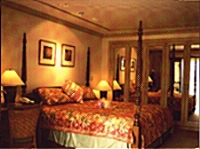 Three types of fully furnished Luxury Resort Villas are available for any shareowner: Three (3) Bedroom unit. Fully furnished with kitchen, dining and living facilities. Two (2) Bedroon unit. Fully furnished with kitchen, dining and living facilities. One (1) Bedroom unit. Fully furnished with kitchen, dining and living facilities.

Dream destinations across the worlds. Dream vacations year after year.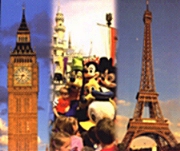 Through Fairways & Bluewater's international exchange network, Interval International, you are welcome to vacation in any of the 1,400 first-class vacation destinations worldwide. That is, any destination of your choice.
Fairways & Bluewater is in fact the first and only resort in the entire Philippines to be awarded membership recognition to a prestigious organization with world-class standards.
As such, Proprietary Clubshare owners are assured that their choice resort is equally equipped with first-class facilities and amenities.
So now, you and your family can get an exciting exchange of vacation weeks, anywhere you wish, without having to subscribe in as many resorts.

World-Class Golf. World-Class Resort.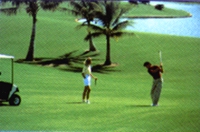 As a Proprietary Clubshare owner, your privileges extend to ownership of a world-class 18-hole par 72 golf course by champion golfer and master designer Graham Marsh.
Take your golfing skills to the test--tee off across a mass of rolling and undulating terrains. On this, Marsh quips, "It's a unique golfing experience they may not find anywhere else in the world".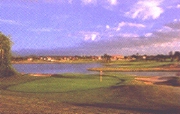 It blends the pleasure of golf with the immensity of the natural tropical landscape. Imagine a unique, self-contained land parcel with an aviary and tree-lined pathways within the course front nine.

Exhilarating Swings. Exciting Conveniences.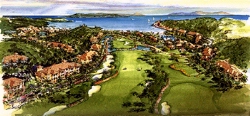 Before setting out on a rigorous round of golf, or after a particularly challenging game on the field, there's nothing like the pampering atmosphere of the resort's exclusive Clubhouse.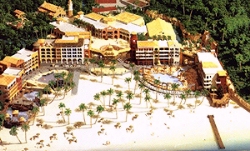 It's complete retreat from the pressure of the game. With a full-service gym and spa facilities as well as private locker rooms, changing rooms, shower rooms, health spa, massage parlor, jacuzzi, coffee shop, gift/pro shop, grill/restaurant, among others.
No other structure enjoys the immensity of the clubhouse as it perches right on top of a picturesque ridge at the center of the course offering a panoramic and breathtaking view of the entire property.

Countless Possibilities. Timeless Attractions.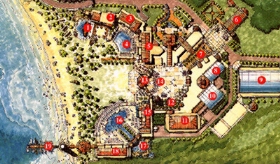 Indulge in an all-in-one entertainment and recreation arena. At Fairways & Bluewater, the Newcoast Town Center central activities complex will further enliven the stay of the Clubshare owners.
With both indoor and outdoor activities, guest support services, and other special privilege discounts, the Newcoast Town Center is truly a mixed bag of first-class entertainment and recreation.
There's a whole world of fun-filled activities that will bring fun and relaxation to kids of all ages: Children's Club. Water and other Sports Activities. Entertainment Activities.
Active adults or those wanting to flow with the tide can find their own niche of fun and surprises: Retail Activities. Snack and Dining Activities. Special Events.

[ Fil-Estate Realty Corp. ] [ Harbortown ] [ Contact Info ]
[ E-mail ]