TRAFALGAR PLAZA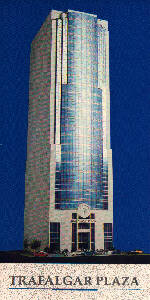 AMENITIES & HIGHLIGHTS

ELEGANT AND MAJESTIC ENTRY
Enter a new world of business. The granite-finished building facade is complemented by granite combine in main lobby floor, walls, and its lifts lobby. An all granite information counter in the lobby is topped by a tasteful abstract sculpture over an elegantly waterfall backdrop. A perfect welcome for your initial business encounters.

ROOF DECK RECREATION AREA
Fitness for the busy executive! For work-outs or relaxation, the roof deck provides peace and noise-free environs plus a fully equipped gymnasium, fitness center, refreshment lounge, sauna and massage room.

BUILDING AUTOMATION SYSTEM
Building automation at its finest! Security via a centrally controlled system and temperature thermostat computerized for optimum cooling performance. Card Access provisions for restricted areas. Multi-functional wiring system designed to support various cabling requirements.

EXECUTIVE LOUNGE
Relax and unwind after a day's hard work at the executive lounge located at the fifth level. Uncompromising elegance, it is equipped with and can accommodate 160 persons. upon request, the lounge is also available for other functions, and even as a private boardroom... complete with audio-visual provisions.

HYDRAULIC LIFT PARKING
Sure and trouble-free parking exclusively for owners and guests, made even more convenient via one-touch, user friendly hydraulic parking lifts in all four basement levels.

HELIPAD FACILITY
Total accessibility! Step into the 1990's and beyond. In anticipation of greater traffic within the metropolis, and for convenience and easier access and immediate take-offs to out-of-town plant / factory visits, a helipad is situated atop the roof deck

EMERGENCY BACKUP POWER
For least noise and inconvenience, stand-by generator units are housed in the basement levels to provide the needed power requirements during electricity supply interruptions.