Southwoods Ecocentrum -- where Everyday is an Adventure...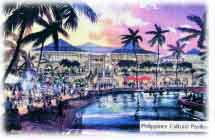 Southwoods Ecocentrum is one such place. It is the place for fun and excitement. It is the place for endless shopping sprees. It is the place for taste of culture and history. And it is the place where the family can enjoy the comforts of a safe and modern community.

Southwoods Ecocentrum is envisioned to be the ultimate destination dedicated to the Filipino family. It is the first center of this format in the country, which integrates the retail, food, and entertainment mix, drawing on strong cultural and ecological themes. it is considered to be the largest theme park-based development in the Philippines, merging the powerful functions of education and entertainment. Fil-Estate Ecocentrum Corp. (FEEC) is the owner and developer of this ambitious project. FEEC is 55% owned by Fil-Estate Golf and Development, Inc., a wholly owned subsidiary of Fil-Estate Land Inc.




[ Fil-Estate Realty Corp. ] [ Camp John Hay ] [ Manila Southwoods ] [ Contact Us ]