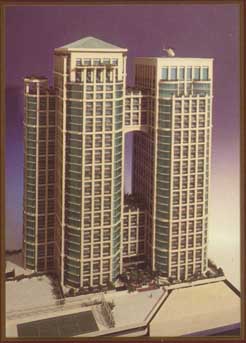 Generators for power interruptions provide power to:

2 high-speed elevators
Exit signage
Public access and common areas
Major auxillaries
Water pumps
Sewage treatment pumps
Entry and kitchen lights
2 electric outlets for living/dining areas


Electric outlet for refrigerator
Kitchen exhaust fans
Satellite TVRO/MATV System
Complete fire detection and alarm system
Computerised Emergency Alert System
Building Management Auxiliary System
Residential Units

1-bedroom units
2-bedroom units
3-bedroom units
Penthouse units



The Ground Lobby
The main entry to the Ground Lobby at the Bramante Level is a rich sequence of space built around water features highlighted by a canopy of palm trees at the entrance.
Three columns of stone and glass spill water from highly detailed bronze jets, the fountain basin is filled with vari-coloured pebbles where pencil jets blow water between the columns.
The Ground Lobby which serves as the arrival area offers a view of the REAR GARDEN traversed by raised stone steps leading to the water lily garden with 6 raised stone "islands" supporting polished burgundy planters accented by "spilling" foliage. The lower water garden framed by tropical palms in raised planters completes the sense of solitude and closeness to nature in proportions not dominating but calming.
The Pool Area and Horizon View
Located beneath a two-storey volume, the pool area forms the perspective of the Horizon View featuring a Garden Bar, Dining Area, as well as Sitting and Sunning Areas.
At the threshold of the country's 3 great and modern thoroughfares:
EDSA linking North and South of Manila and where the most modern Light Rail Transit System will soon ease 60% of its traffic load.
Shaw Boulevard where a major development encompassing 27 hectares will soon give rise to a 21st century Megapolis while it joins the new cities of Pasig and Mandaluyong.
And the vibrant Ortigas Avenue linking the rest to the Ortigas Center - a new finance centre that rivals the City of Makati in bubbling affluence.
Renaissance 3000 is the on condominium development that can boast of a space for recreational amenities this size: Landscape grounds, glistening pool, wide paths and walkways, sports facilities, children's playground and clubhouse.
30 luxurious floors
Grand Main Lobby
Swimming Pool Spa wit
Sundeck Locker and shower rooms
Elevator Access at the parking floors
Modern High speed elevators
Parking space for tenants and visitors
Driver's lounge and quarters
Security monitors in all public areas and elevators
Back-up central laundry/drying area
Centralised garbage disposal/collection room
Sewage treatment plant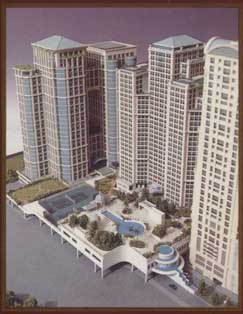 The Units
Your Renaissance "palace in the sky" lets you enjoy the feelings and moods of existence. The mood of summer which is magnificence in THE VERONA---the 2-bedroom units located at the 1st to the 28th floors.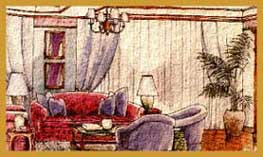 The laughing mood of Autumn in THE PALAZZO REALE---A 1-bedroom unit located at the 20th and 21st floor. THE RAFAELLO---A 3-bedroom units located at the 1st up to the 20th floors and the 27th floor. And all these combined in THE MEDICI---Penthouse Units located at the 36th, 28th, 29,th and 30th floor.